3Dponics is collaborating with educators across Canada, the United States, Europe and Asia to get our do-it-yourself, open-source hydroponics systems into K-12 classrooms everywhere.
The countless lessons and activities made possible by 3Dponics offer a highly engaging, hands-on way to teach science, technology, engineering and math (STEM) as well as expose children to technologies of the future from an early age.
3Dponics allows students at any grade level to acquire the skills , knowledge and experience to succeed in today's tech-driven job market.
3DPONICS IN THE K-12 CLASSROOM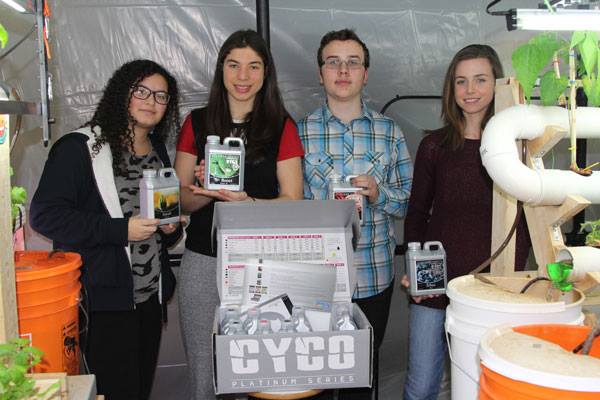 3D printing is a valuable teaching tool that can help students understand, retain and master complex theories they learn in class. By adding a physical form to abstract concepts, 3D printing allows students who don't perform well in the traditional learning environment to excel.
The fact is that a lot of youth do not do well in the widely popular "theory-first" approach to education. Because of this, a large number of youth struggle in school, lose interest in science and end up not meeting their full potential.
In addition, 3D printing speeds up the modeling and prototyping process, allowing design and engineering students to test their models and arrive to viable solutions quicker than ever before.
Contact us today to set up a 3Dponics system in your classroom.
Working with 3Dponics, students will:
Learn the fundamental concepts of science and technology, including systems and interactions; structure and function; and sustainability and stewardship.
Relate science and technology to society and the environment.
Develop skills, strategies and good habits for scientific inquiry, critical thinking and problem solving.
Be introduced to emerging technologies such as 3D printing, 3D modeling and design software
Furthermore, it is a well-known fact that the best way for students to learn and retain information taught in class is to apply it to real-life situations, and there's no better way to do this than with 3D printing, which makes iterative design and prototyping faster and simpler than ever before.
They will also master the following skills :
Brainstorming and planning
Critical thinking
Following procedures
Creating models
Measuring
Technological problem solving
Organizing, analyzing and interpreting data
Making connections and drawing conclusions
Communicating in a variety of forms