3DPONICS FOR SCHOOLS
3Dponics is collaborating with educators across Canada, the United States and Europe to get our do-it-yourself, 3D-printed hydroponics systems into K-12 classrooms everywhere. 

3Dponics is a highly engaging, hands-on way to teach children about science and technology since it is a well-known fact that one of the best ways for students to learn and retain information taught in class is to apply them to real-life situations.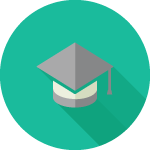 LEARNING OUTCOMES
3Dponics is a great way to increase student interest, engagement and achievement in the STEM fields, thereby preparing them to enter the modern, innovation-based labour market, where career opportunities in these fields are growing exponentially. In addition, students will:
Learn about fundamental concepts of science, technology, engineering and mathematcs (STEM)
Understand how science and technology affect the environment and why sustainability is important
Develop skills, strategies and good habits for scientific inquiry and problem solving.
Apply abstract concepts learned in class to real-life situations
BRAINSTORMING

PLANNING

CRITICAL THINKING

FOLLOWING PROCEDURES

MEASURING

OBSERVING

 
CREATING MODELS

TECHNOLOGICAL PROBLEM SOLVING

ORGANIZING, ANALYZING AND INTERPRETING DATA

DRAWING CONCLUSIONS

COMMUNICATING IN A VARIETY OF FORMS

MAKING CONNECTIONS